Welcome to business in Africa
Advantages on your room reservations! with our loyalty program Nomad
Dunia Hotel Bissau
Excellent value accommodation
Low prices happiness at Dunia Hotel Bissau.
Located in the heart of Bissau, 3 km (6 min) away from Business district and 10 km (18 min) away from Bissau International Airport, experience elegant african style while submerging yourself in the vibrant culture of Guinea-Bissau.
Live in spacious villas and guestrooms offering large bathrooms, 100% natural local products, free WiFi and air conditioned. Enjoy our in-room dining or at our European-African restaurant, Bijados. Our 3-star hotel offers 1 restaurant, 1 bar, 1 outdoor swimming pool and 1 terrace all with unique flavors and creative culinary expressions.
To stay in shape join our awesome fitness club. Because each single guest are important to us, we are pleased to offer you a free shuttle airport on request. More than a destination, Dunia Hotel Bissau offers endless experiences for both business stays and family weekends.
Meetings & Events
Great ideas need great spaces. For inspirational meetings, seminars and events in Bissau, we promise professional event management, delicious catering and state-of-the-art audiovisual equipment as standard.
Restaurations
Discover authentic dining in Bissau at Dunia Hotel Bissau. Enjoy various offers and local and international flavours in a spacious, comfortable restaurant.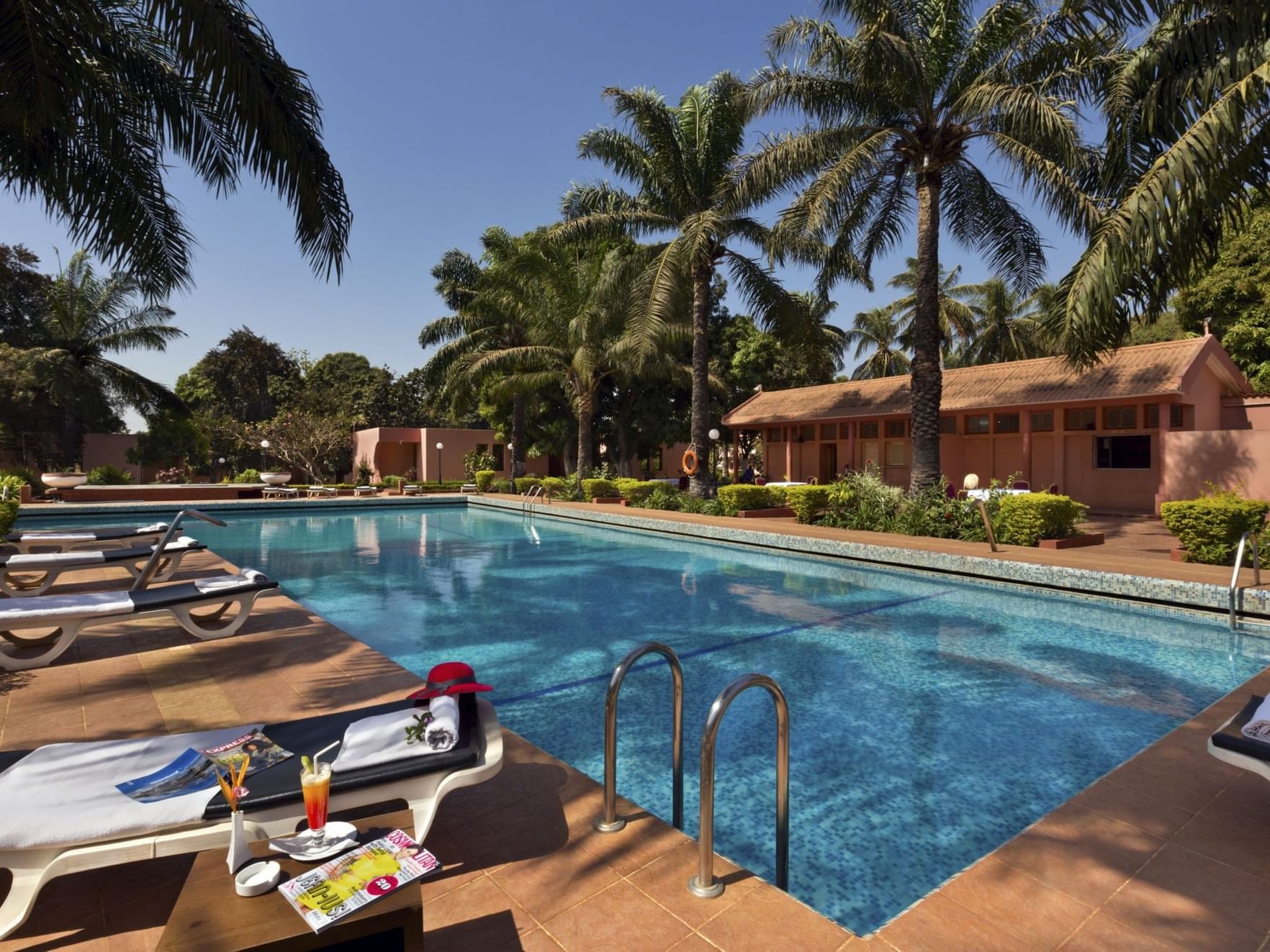 Take advantage of our offers to relax.
Take care of yourself and have a good time.
Read more
Very nice sanctuary in Bissau. Pretty grounds, well maintained. I had a lovely suite; some travel mates in older buildings weren't as satisfied. Internet decent. Lovely pool, well attended to, clean, though oddly open only 10 to 7, making morning swim impossible. We didn't eat here. The bar is thin with no seating: Cristal beer just cfa 2k, but a cocktail (I mixed myself) cost a hefty cfa 5k. Nespresso machine at breakfast broke; no filtered coffee. Staff are super kind and try though. I'd have given five stars, but readers should know this is not in the heart of town, nor in the Che G area. You can walk out and up and down the main drag, but there ain't much to see. Mosquito net; AC; TV with BBC World and multiple sport channels, but only a small LG; in-room hot water heater for sink and shower, love that.

2020-02-11
Unexpected country with friendly people. Approximately 15 minutes from the airport. Hotel was very nice, big open compound, nice rooms, clean. It is a pleasure to stay there. Big pool, don't forget your swimming gear.

2019-02-08