For your business seminars and family reunions.
Advantages on your room reservations! with our loyalty program Nomad
Dunia Hotel Loumbila
A charming Swiss style hotel near Ouagadougou
Low prices happiness at Dunia Hotel Loumbila.
Located in the commune of Loumbila, 25 km (22 min) away from the capital of Burkina Faso, Ouagadougou, experience elegant african style while submerging yourself in the vibrant culture of Burkina Faso.
Live in spacious villas and guestrooms offering large bathrooms, 100% natural local products, free WiFi and air conditioned. Enjoy our in-room dining or at our European-African restaurant, Riibo. Our 3-star hotel offers 1 restaurant, 1 bar, 1 outdoor swimming pool and 1 terrace all with unique flavors and creative culinary expressions.
To stay in shape join our awesome fitness club. Because each single guest are important to us, we are pleased to offer you a free shuttle airport on request. More than a destination, Dunia Hotel Loumbila offers endless experiences for both business stays and family weekends.
Meetings & Events
Great ideas need great spaces. For inspirational meetings and seminars, we promise professional event management, delicious catering and state-of-the-art audiovisual equipment as standard.
Restaurations
Enjoy unique offers in a comfortable restaurant.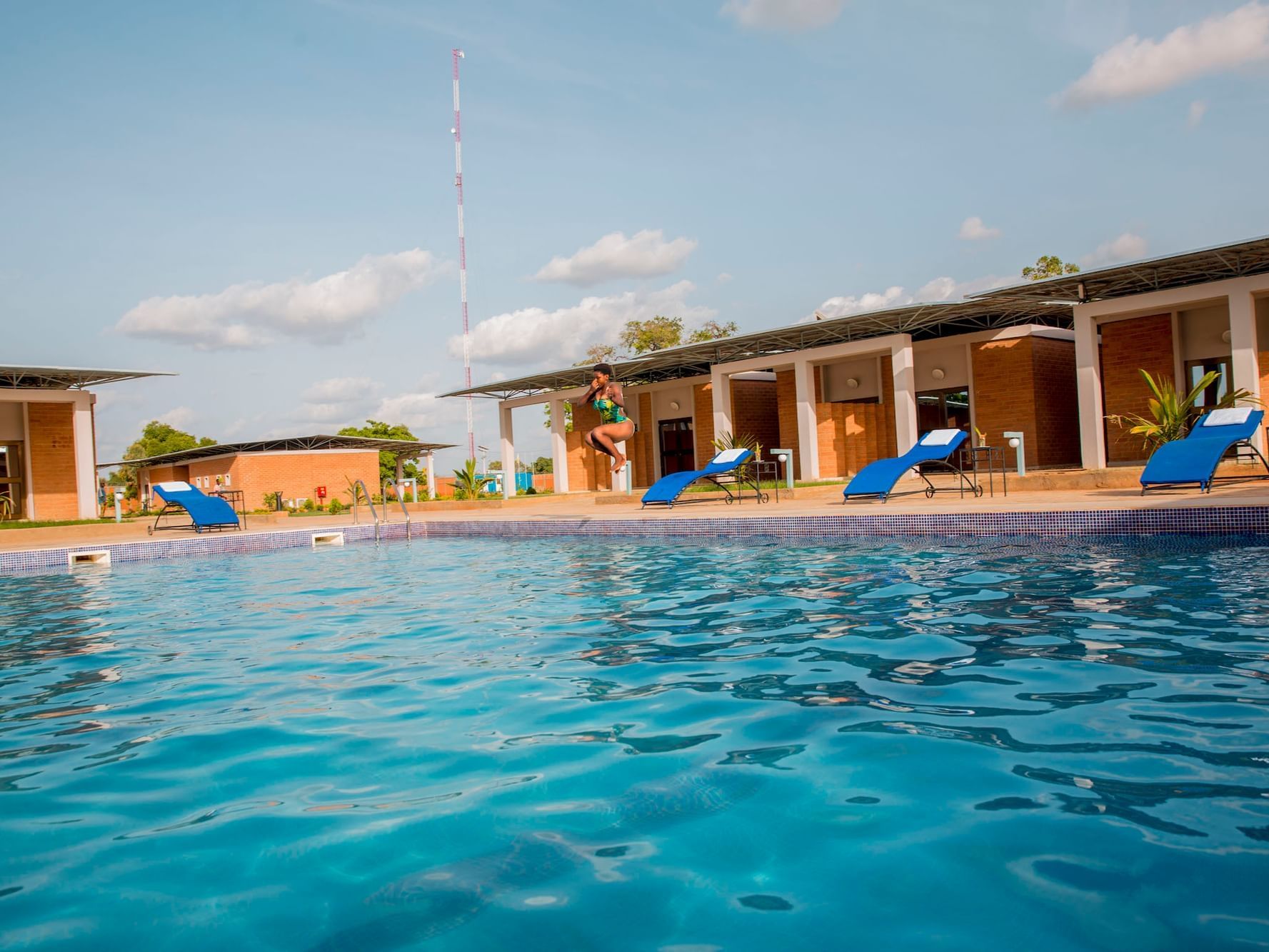 Take advantage of our offers to relax take care of yourself and have a good time.
Read more
An interesting experience

Located 30 minutes drive from Ouaga the hotel is in a spacious compound.

Their service is great, the staff very polite, very helpful and makes your stay very comfortable.

The dining options are limited though what was available very well prepared and presented in a pleasant manner - full marks for quality, three for the limited menu.

The pool is a big one with the most comfortable lounge chairs I've ever sat on - really really nice. The only downside was the fencing all around the pool, limiting access.

The Superior and Executive rooms close to the pool are fine but the uniqueness about the hotel are their standard rooms!

40"HC containers, converted into sone really nice accommodation - 5 stars for that!

Great stay.

2020-08-01
Une magnifique espace de vie

A quelques kilomètres de Ouagadougou (OuagaLaBelle) dans le calme et la verdure s'érige ce magnifie espace de vie. Personnel accueillant et sympathique, cuisine raffinée et haut niveau avec des plats nationaux et internationaux. Un endroit calme et paisible pour travailler ou se reposer ou même faire la besoin au bar moderne avec se terrasse offrant une vue prenante sur les environs.

2019-07-30