Contact & Location
Get in touch with our team
Lorem ipsum dolor sit amet, consectetur adipiscing elit. Integer ut quam ultricies, congue orci dignissim, ullamcorper tellus.
Pellentesque vel malesuada elit. Aliquam in lectus rutrum, imperdiet massa et, finibus justo
How to get to the hotel
Vivamus euismod, quam ac consectetur efficitur, odio lectus gravida tellus, vel pretium sapien dolor sit amet leo. Donec ex lorem, porttitor et augue at, viverra congue elit.
Oubritenga, Loumbila, Burkina Faso
Dunia Hotel Loumbila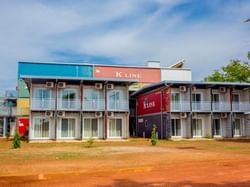 Come and enjoy one of the 40 rooms of this charming hotel, built in the art of the former Swiss houses. Renovated completely, you will find in our house a warm and friendly atmosphere typical from the Valais district.